Homes for Good's New Service Center
This new office will create a one-stop-shop for customers and improve access to our services. Close to public transit, highways, and parking, the location is ideal for who we serve. All staff can be in one place for improved service to customers, as well as more needed space for all Homes for Good functions. A new office space will improve privacy for customers and allow for improved organization of work. Overall the new space will help our staff better serve Lane County.

We're Changing our Address
Homes for Good will soon be moving to a new administrative office. Due to the COVID-19 pandemic, we will continue to have most staff working remotely, and our office will be closed to the public.
Here is what you need to know regarding sending information to our office:
When Will this Change Start?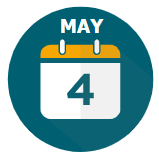 May 4th
The few staff that will be working from our office to perform essential functions, such as scanning mail, will operate from the new office starting on May 4th.
Where Do I Drop Off Paperwork?
Before May 4th
*After May 4th
177 Day Island Road
Eugene, Oregon
97401
300 W Fairview Drive
Springfield, Oregon
97477
100 W 13th Avenue
Eugene, Oregon
97401
*Please note that May rent can continue to be dropped off at the 300 W Fairview Dr. location until May 8th.
Frequently Asked Questions
The post office will automatically forward income mail to our new office so there is no need to worry. Our few in-office staff will continue to collect mail from the old building for a couple of weeks in case anything is delivered there by accident.
Yes, we have installed a box for residents to drop off paperwork after hours and when the lobby is closed. Residents can start using this drop box after May 4th.
Due to COVID-19 our new lobby is not open to the public yet. We will have very limited staff working out of the new building so that we can promote social distancing, and keep our employees safe, while still completing essential functions. We will send an email communication when our lobbies open to the public again, if you would like to receive email notifications, sign up in the footer below.