How to Pay Your Rent
If you are a Homes for Good resident and you live in Homes for Good owned and managed housing, below find your options for paying your rent: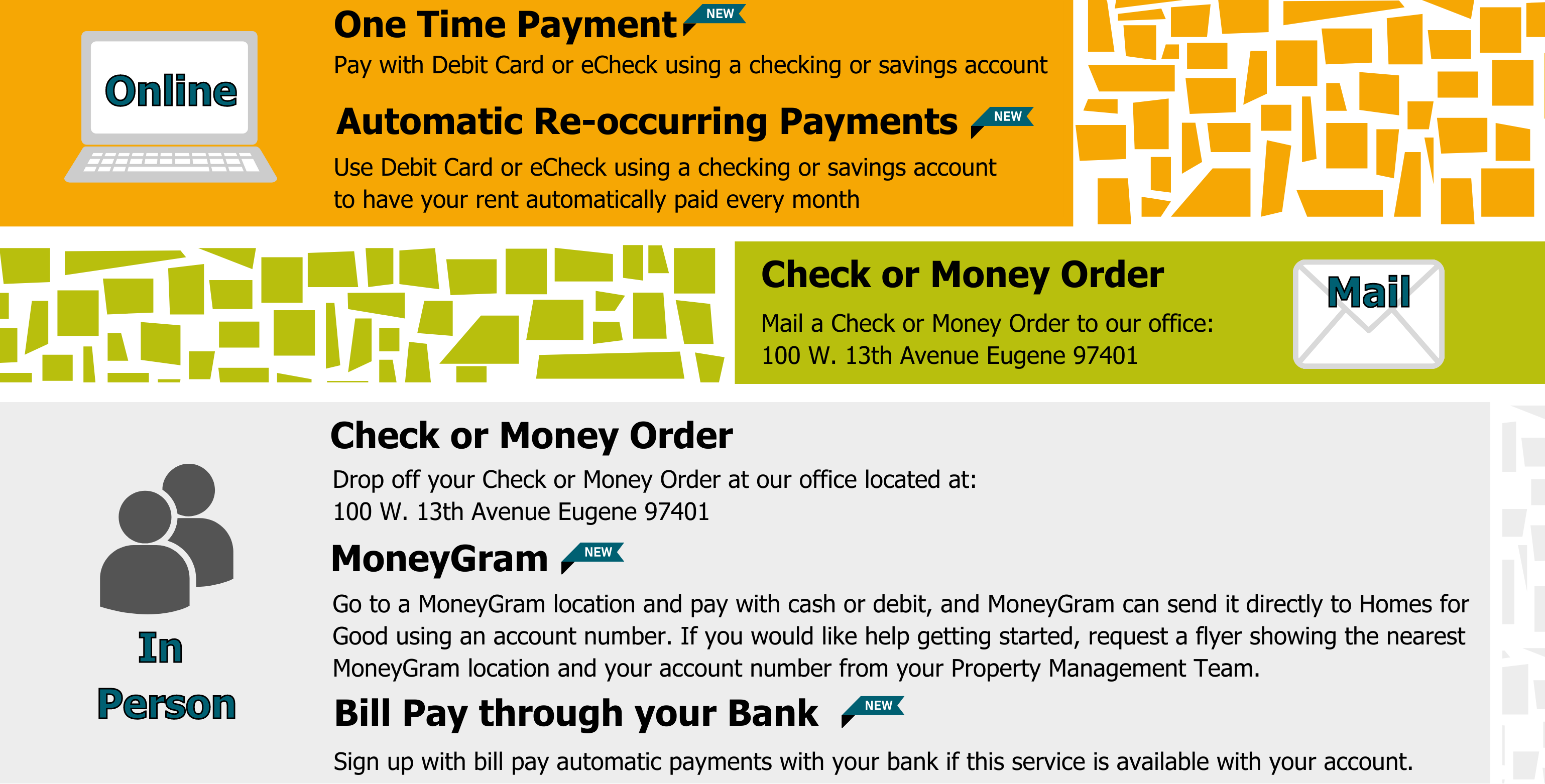 New Rent Payment Options Starting 10/19/2022
Homes for Good is pleased to offer more ways for residents to pay rent. We have just launched RentPayment.com for online payments. Homes for Good is also offering payment from MoneyGram locations which allow you to pay with cash or debit. Depending on your bank or local credit union, Bill Pay may be available for automatic payments directly through your bank
Online Payments
RentPayment.com is an online rent portal developed by MRI which Homes for Good uses for rent collection. To get started with RentPayment.com 1) download the app or visit the website 2) Select "New to Rent Payment" and set up your account and 3) Add your preferred payment method and you're all set.
If you need help setting up your account, contact your Property Manager, Assistant Property Manager, or a Resident Services Specialist.
In Person and Mailed Payment Options
If you prefer to pay your rent using a check or money order, the check needs to include the contact information of an adult on your Lease Agreement (meaning the upper left hand corner of the check should list the name and contact information of an adult on your lease agreement).
Homes for Good cannot accept checks from 3rd parties. Please be sure to pay the exact amount of rent, plus any other fees or charges. If you are unsure of the correct amount to pay, please contact your Assistant Property Manager. Mail or drop off your rent and other payments, with a Rent Coupon at our Office, located at:
Homes for Good Housing Agency
100 W 13th St
Eugene, OR 97401

You can also pay your rent at a MoneyGram location. Find the closest MoneyGram location to you here. Contact your Assistant Property Manager or Property Manager to get your account code to complete the transaction.